THE PERFECT ALLROUNDER!
Cavesson, headcollar and multi-functional bridle – all in one! Handmade from Biothane in Germany in 28 colours.
There are many ill-fitting cavessons and bridles on the market. How often does it happen that a cavesson or bridle shifts to close to the horse's eye or causes pressure on those hyper-sensitive nerves near the cheekbone?
Equizaum® offers a unique solution:
 Jaw strap & cheek straps are all freely adjustable by a few cm, allowing for the absolute perfect fit!
The entire bridle has not only interchangeable components, but can be also adjusted on cheek and jaw strap to find the right fit for ANY horse or pony.
All pressure area are padded, and for the extremely sensitive poll area, our Neck Patches will ensure relief.
Together with the optional glass fibre nose bow, the Equizaum® offers the kind of flexible stability you struggle to find in other cavessons and bridles.
Every Equizaum® is fitted with d-rings/rings you need for the use as Bovecon, sidepull, bitless bridle, or bridle, and with the add-on parts, it will only take seconds to turn the Equizaum® into a snaffle, snaffle with separation or bitless bridle!
Biothane has a leather-like structure, but offers a wealth of advantages since it is waterproof, has a very high tear resistance and does not cause chafing.
There is a variety of colour combinations, which will take your "matchy matchy" to another level.
Available in 28 colours in endless combinations from £175
Neck Patches® – pressure relief in the sensitive neck area. First, you will select the shape of the neck piece. You can choose between the classic Biothane neck strap with replaceable Sympanova padding or neck patches, to which a browband can be attached.
The Neck Patches® interrupt the line from the mouth to the ears. The resulting distribution of pressure on the anatomical pad cushions prevents punctual loading. The Neck Patches® are connected to each other via a length-adjustable bar in order to be able to adjust an optimum position individually to the horse. The area directly behind the horse's ears is rounded and the cut is selected so that the soft underside is pulled upwards to additionally prevent a seam edge from pressing against the sensitive back of the ears from behind.
Formed from special glass fibre material, the nose bow is light as a feather.
Embedded in a soft, proven Sympanova sleeve, the nose bow ensures an even better fit for the equizaum, ensuring even more precise aids for lunge and in hand work. After numerous tests with various prototypes made of different materials, we decided to use a special glass fibre material to guarantee sufficient flexibility and stability. The material does not splinter in the event of an accident – so, there is no risk of injury.
Bithanger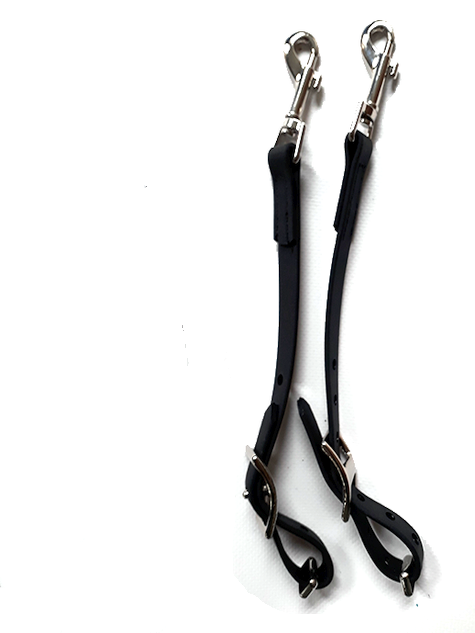 Giving you a choice in the distribution of force
A very useful addition to the EquizaumⓇ.
The switch is attached in seconds to rein, sidepull ring and bit and allows for an either even distribution of force to bit and nose, or a different ratio of force distribution (excellent tor novice riders with an unsteady hand, or riders working towards bitless riding.
The bithanger is attached to the Equizaum® in just a few seconds, and your Equizaum can be used just like a regular bridle with a bit.
It also allows the removal of the bit without having to remove the entire Equizaum from your horse's head, which is, for example, very practical on long rides, if you want to allow your horse some grazing time.
Your bridle doesn't match your new "Matchy Matchy" colours?
No problem, …simply order a new set of Equizaum padding.
Biothane reins may look like leather and feel like leather – but are so much better, and available in 28 colours!
The sophisticated composition of the reins, made from high-quality Biothane, feel great even if the weather isn't and are easy to clean with a sponge and brush.